Here's my new hair. I'm not so sure about it, but wispy bangs are hardly the most drastic, dramatic change. For reference, the pic in my sidebar was take about three weeks ago. What do we think? Grow it out? Hack it all off? Give it a few more days?

Now from the side. Please ignore my I-want-to-eat-your-brains expression. It's fiendishly difficult to take a photo of yourself when your arms are as short as mine.
Thoughts? Opinions? Be brutally honest. As certain people can attest, I have a decision-making disorder, so it's very helpful for me to have frank, blunt friends who can make up my mind for me. Plus, it's really just easier than deciding things for myself.

On another topic (I know, just when we were talking about my favorite subject, too!) here's a little Romance Diva pimpage: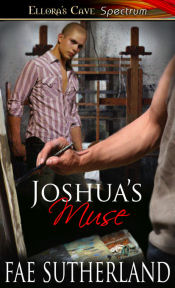 Joshua's Muse by Fae Sutherland


College student Alex is entirely out of his element, thrust from his safe circle of tightly knit family and friends into a world where he feels out of place and alone, until he meets the beautiful artist Joshua, who develops a swift and overwhelming obsession for Alex.


Still learning to deal with his own sexuality, Alex is confused but intrigued by the bold man who calls Alex his muse and finds himself falling under Joshua's spell and into his arms. Alex wants true love without the sacrifice. Joshua wants his muse and everything else Alex has to offer. Can they find their balance and a lasting happiness?

On Sale Now at Ellora's Cave!