We're so close! To so many things. Close to the Romance Writers of America national conference in a week (come see me at the Lit Signing,) close to the release of Too Hot to Touch on August 2nd, and...close to hitting 1,000 fans on my Facebook fan page!


I wanted to celebrate these almost-milestones with a giveaway...and I've got the perfect gift for my readers. Books! All you have to do is post a comment to this blog that answers this question:


If you were trapped on a deserted island and had only one book with you, what book would you want it to be?



I'm going to randomly choose three winners from the answers below. Each lucky winner will get one of the books below, plus a full set of my Rising Star Chef romance trading cards and a chapter excerpt booklet that contains the first THREE full chapters of Too Hot to Touch!




The other prizes are: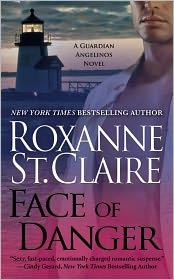 Face of Danger by Roxanne St. Claire


Blurb: Private investigator Vivi Angelino loves living life on the edge, but stepping into the shoes of a movie starlet to bait a serial killer isn't just a thrill . . . it's a ticket to the big time for her fledgling security firm. That is, as long as a certain risk-averse FBI agent stays out of her way-and out of her fantasies.

Assistant Special Agent in Charge Colton Lang isn't above using his well-worn rulebook to stop Vivi's latest walk on the wild side. But when they learn her client is involved in something far more insidious than bad acting, Vivi and Colt must work together despite the electrifying attraction arcing between them. For each new clue is bringing them closer to a high-profile crime with a dark and deadly truth at its core . . . and a cold, calculating murderer with nothing left to lose.

Blurb:
After nearly a decade as a sous-chef in a trendy eatery, Jenna is desperate for a change. She's supported her ex-husband's dreams for so long that she can't even remember her own. Until she sees a for-lease sign near her parents' home and envisions her very own cooking store.
Her crash course in business is aided by a streetwise store manager and Jenna's adoptive mother. But just as she's gaining a foothold in her new life, in walk her birth parents—aging hippies on a quest to reconnect with their firstborn.
Now Jenna must figure out how to reconcile the free-spirited Serenity and Tom with her traditional parents, deal with her feelings for a new love interest and decide what to do about her ex's latest outrageous request. In the end, Jenna will find that there is no perfect family, only the people we love….
Blurb:
Tempest Maguire wants nothing more than to surf the killer waves near her California home; continue her steady relationship with her boyfriend, Mark; and take care of her brothers and surfer dad. But Tempest is half mermaid, and as her seventeenth birthday approaches, she will have to decide whether to remain on land or give herself to the ocean like her mother. The pull of the water becomes as insistent as her attraction to Kai, a gorgeous surfer whose uncanny abilities hint at an otherworldly identity as well. And when Tempest does finally give in to the water's temptation and enters a fantastical underwater world, she finds that a larger destiny awaits her-and that the entire ocean's future hangs in the balance.
And apologies to my international readers, but due to contest regulations in other countries, this giveaway is only open to U.S. residents.