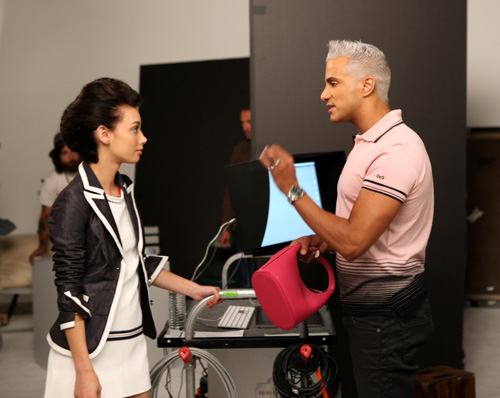 Sorry, I know I've been MIA this week. Got to get my revisions for ON THE STEAMY SIDE done and off my desk! In the interests of keeping my body and mind limber, however, I did work out for an hour this morning while watching my DVRed season premier of America's Next Top Model.

Fabulous.

I don't know why I'm so obsessed with this show, and frankly, I've stopped questioning it. The addiction is a fact of my life now. I deal with it as best I can. One of the ways I deal with it is by blogging about it, so here goes.

Cycle 13 (The Short Girls) Random Thoughts and First Impressions:

Amber. Holy crazypants, thank the sweet Lord for whatever "personal issues" kept her out of the house. I was not going to be able to handle her particular brand of nutso for too long.

Bianca. Already driving me insane. Stop whining! Also, she's such a Nenna lookalike! Which brings me to my next point--all the girls are starting to look like girls from previous seasons. Courtney is plucky and adorable, but she looks just like Kim (the original ANTM lesbian). Erin reminds me of someone, can't think who--as does freaky Nicole. I'm starting to sympathize with modeling agencies. "Is there nothing fresh and exciting?! Get out, all of you!"

Laura. Love! She castrates cows! And the comment, "Nobody cheats on me" totally cracked me up. She is definitely my early favorite.

Tyra. Looking hot! Girl, I would love to know how you slimmed down. And I like the darker hair, too. But the harem pants at panel? Not so much.

Chanel Iman. Cute. Seems nice. Not like a total airhead. But I miss Paulina! Couldn't they have scrapped the enormous bankable logo mailbox and kept La Porizkova?

Hmm, what else? Was weird to have makeovers in the very first episode, but I guess since no one got anything drastic done, it would've been hard to stretch it out. I think the right girl went home, and agreed with the Best Photo of the Week (for once.) Really, none of the photos sucked too badly--I think maybe they've started going easier on the girls in their early shoots. Remember the good old days when the fresh-off-the-bus modelettes would have to embody, like, disenfranchisement? That was a true trial by fire. I wonder if Tyra is letting her sympathy for the little'uns get in the way. Maybe she wants to give even the girls who flame out early a couple of nice shots for their portfolios.

Anyway, it's a darn good thing I didn't have two episodes DVRed, because I would totally be marathoning it! Can't wait till next Wednesday.