If you want my grandmother's recipe for Fresh Apple Cake, check out my guest post today at Romancing the Book! This is a great cake for the holidays because it's one of those that actually gets better and better a few days after baking, so it's perfect to keep around the house for when those unexpected guests drop by.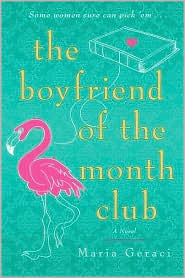 And today, finally, my friend Maria Geraci's newest book is out! I can't wait to get my copy of The Boyfriend of the Month Club (and is that not the cutest title ever?) because Maria's a wonderful, funny, warm writer whose characters always stick with me long after I finish the book. Love the cover for this one, don't you? It looks like the perfect escape from all this cold winter weather! Head out to a bookstore or
order it online
right away. You don't want to miss this one!